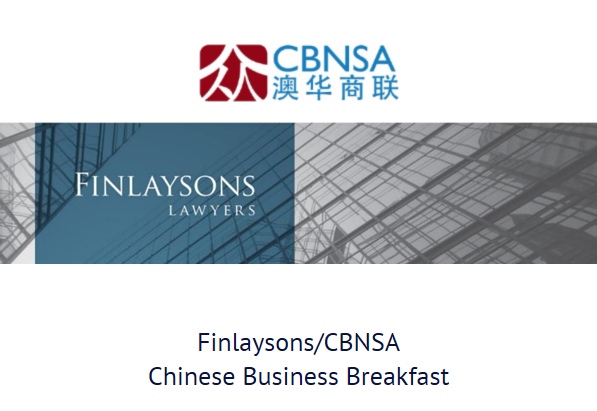 Come along and hear from Nicho Teng (Greaton and Haneco Lighting) on 3 May 2017, as he takes you through his personal journey and provides you with some practical tips from his business experiences.
Nicho Teng migrated to Adelaide from Fujian province as an accounting graduate.  In 2011, he was recruited to run Greaton's property developments in Adelaide.  By 2015, Nicho, as Greaton's managing director, was the driving force behind Australia's most valuable hotel transaction: the purchase of "The Ribbon", a $730 million hotel property to be built at Sydney's Darling Harbour.  That is in addition to Greaton's $300 million Adelaide-based development, "West Franklin".  In October 2011, Nicho also founded Haneco Lighting, one of the fastest growing SA businesses and the leader in the Australian LED market.
Nicho will be introduced by Alfred Huang AM and then interviewed by Michael Butler, Partner of Finlaysons. Michael Butler is a tax and revenue lawyer with a specific focus on China, international tax and foreign investment.  
The Q & A will be in both Mandarin & English.
Location:  Finlaysons, Level 12, 81 Flinders Street, Adelaide
Date:  Wednesday, 3 May 2017
Time: 7:30am for 7:45am Start – 8:45am
RSVP: connie.ng@cbnsa.com.au
Cost: CBNSA Member – $10.00
Non Member – $15.00